Why build a bullnose verandah?
"The best thing is that everything you could think of needing to install our bullnose verandah was thought of and included in the price, which was very reasonable."
Rob Bamford, Lyrebird customer
Lyrebird's curved verandah rafters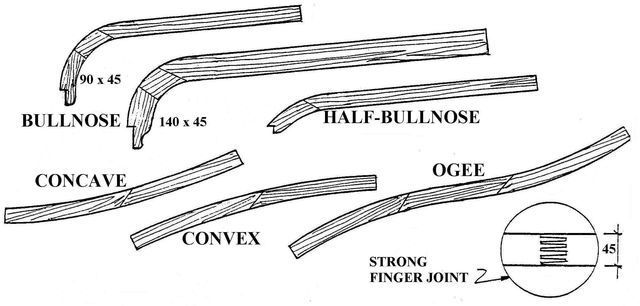 Are you a builder looking for materials? Looking at your own DIY verandah project?
We're happy to help you obtain quotes from your local timber yard for all of our bullnose verandah products. Just contact us and we'll supply a verandah rafter plan that will comply to building code so that you're clear on how it all fits together.
We can also help you obtain a DIY verandah building kit, including a quantified Bill of Materials,
which lists everything you need for your bullnose verandah - that's all the rafters, framing, bolts, iron, etc. - so that your bullnose verandah project can get up and running quickly and easily.
Typical information that we require to provide a verandah rafter plan for your bullnose verandah
Length of the verandah along the house, and width from the house to the outside of the verandah beam
Height against the wall of the house.
A drawing or sketch is very helpful, e.g. does the verandah go around a corner?
We can then calculate the rafter radius that you'll need for best looks and to provide for proper water run-off.
Download our brochure - "How to Build a Bullnose Verandah"
Best practice in building a bullnose verandah. We have developed simple instructions, with explanatory diagrams to help you build your bullnose verandah well. Perfect for DIY verandah jobs.
We can give you expert advice and provide many free resources and guides to ensure that your DIY verandah project doesn't end up a disaster! It's all part of our exceptional service.

From DREARY to DELIGHTFUL
This Half-Bullnose Window Canopy (2.9x0.9m) + Half-Bullnose Verandah (3.2x1.6m) were installed / built in 10 hours
by 2 handy-men, from Lyrebird Complete Kits!
**** Click on the pictures below to enlarge or print them ****