CURVED VERANDAH RAFTERS

Why Choose a Bullnose Verandah?
Why use Lyrebird Verandah Rafters?
Lyrebird are the highest quality verandah rafter manufacturers in the industry
Lyrebird Enterprises were the first to manufacture bullnose, concave and convex verandah rafters to building code. The unique features of our bullnose verandah rafters mean less cutting and fiddly work and thus make for the fastest way to build a bullnose verandah. Our rafters are:
Made from better than F8/MGP12 radiata pine - Giving you structurally sound AND visually appealing verandah rafters


Fingerjoined for superior strength - Ensuring that your bullnose verandah or arch withstands the test of time AND weather


Specially designed for fast fixing to the fascia beam - So that you can get the job done quickly AND well


Designed and tested to meet and exceed requirements for SAA codes:



AS1170 Part 1: SAA Loading Code
AS1720: Timber Structures Code
AS4055: 1992 Wind Loads for Housing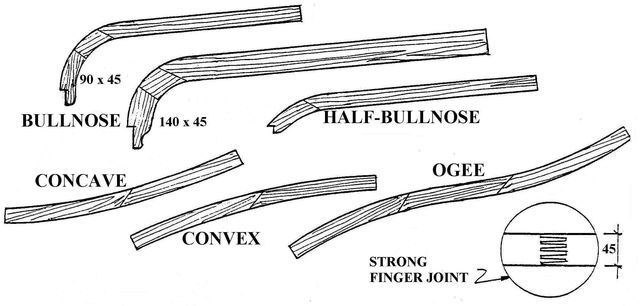 "The best thing is that everything you could think of needing to install our bullnose verandah was thought of and included in the price, which was very reasonable."
Rob Bamford
Request a FREE Verandah Rafter Plan
Typical information that we require to provide a verandah rafter plan for your bullnose verandah includes:
Length & Width - Length along the house, and width from the house to the outside of the verandah beam


Height - Height against the wall of the house


Rough Sketch - A drawing or sketch is very helpful, e.g. does the verandah go around a corner?


We'll Provide the Radius - We will calculate the rafter radius based on the measurements that you provide that will provide the best look and the proper angle for effective water run-off
Request your Verandah Rafter Plan by emailing the details of your project at outlined above to sales@lyrebird.com.au.
Are you a Builder Looking for Verandah Materials?
We service customers Australia-wide
We'll make it easy for you! Get in contact and we can assist with:
A Verandah Rafter Plan - See Request a FREE Verandah Rafter Plan for what we'll need to grab from you to draft this up


A Bill of Materials - A quantified list of the materials for the entire verandah component of the job


Your Local Suppliers - We'll help you obtain quotes from your local timber yard for all of our bullnose verandah products
You can kick things off by emailing your job particulars direct to sales@lyrebird.com.au.
Looking at a DIY Verandah Project?
We service customers Australia-wide
A Verandah Rafter Plan - We can supply you with a verandah rafter plan that will comply to building code so that you're clear on how it all fits together. See Request a FREE Verandah Rafter Plan

for what you'll need to provide us with in order for us to draft this up for you


A Bill of Materials - A full list of everything you'll need, from top to toe - that's all the rafters, framing, bolts, iron, etc. - so that your bullnose verandah project can get up and running quickly and easily


Step by Step Instructions - Our brochure "How to Build a Bullnose Verandah" outlines best practice in building a bullnose verandah. We have developed simple instructions, with explanatory diagrams to help you build your bullnose verandah well. Perfect for your DIY verandah job!


Our Expert Ear - We can give you expert advice and provide many free resources and guides to ensure that your DIY verandah project doesn't end up a disaster! It's all part of our exceptional service
To get your DIY project up and running, send your project details to us direct on sales@lyrebird.com.au.
"Thank you once again for renewing our faith that there are suppliers still to be found that offer good old fashioned workmanship, prompt delivery and backup advice when required."
K & H Donald
Need More Detailed Information?
For architects, draftsmen and council building inspectors, we have a range of literature, span tables and other helpful how-to information. Go to Architects and Timber Merchants.
VERANDAH RAFTER PHOTO GALLERY