GARDEN FEATURES

Garden Arch Kits
Lyrebird Enterprises' delightful Garden Arches will show those Jones' who's boss all year round!
Our Garden Arches are made of LOSP(H3) treated pine, keeping them protected and looking fresh through all types of weather. Cypress pine in-the-ground footings are also available.
Available in a variety of profiles that will suit any garden design, our Garden Arches come with lattice or slat sides, to suit your planting needs. Assembly is quick and easy - Lyrebird's Garden Arches can be assembled in just 20 minutes.
Ask us to include a seat in the centre of the archway, giving you a cool and refreshing spot to take a break from your gardening. And they look fantastic too!

Please note: The seat shown here is for a Kent garden arch.

We have designed others to suit the type of arch you have selected.
The spires are fixed by way of an ingenious dovetail joint and once assembled, can still be transported at need as the focal point for your celebration, such as a wedding or anniversary
Internal dimensions - 1000mm wide x 600mm deep x 2100mm high
Also available: 1200mm, 1500mm and 1800mm wide.
Garden Arch Kit Specifications
Our Garden Arches come in ready to build kits that make assembly quick (approximately 20 minutes) and easy (a cordless drill and a hammer is all you need). Our Garden Arch Kits comprises:
The Garden Arch framing - 4 Legs, 4 Top Curves, 2 Spires, 4 Leg Brackets and slats or lattice to suit.


All necessary hardware - Each kit comes with 40mm, 50mm, 70mm and 100mm screws, everything you'll need to assemble it there and then.


Full assembly instructions - We've outined the assembly from start to finish and provide drawings and examples.
Garden Arch profiles
Select from the following Kent. Kowloon or Bourke Garden Arch profiles with either lattice or slat sides:
| | | | |
| --- | --- | --- | --- |
| Kent - Lattice | Kent - Slats | Kowloon - Lattice | Kowloon - Slats |
Internal Dimensions for all 3 designs:

1000mm wide x 600mm deep x 2100mm high

Also available: 1200mm, 1500mm and 1800mm internal width.
Garden Arch tips
Custom Garden Feature Design and Manufacture
Looking for something a little bit different? Have a look at this garden awning, that we custom designed and manufactured for a client's tennis court.
Have an idea, but can't find it anywhere? Contact us with your ideas, and we'll help you make them a reality.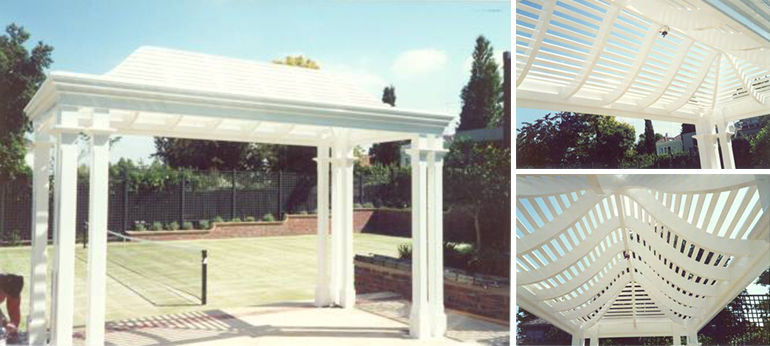 Garden Bridges
We've custom designed and manufactured a number of bridge profiles for customers in the past.
Have a creek or pond you'd like to stroll across? Contact us with your unique specifications and we can design and build your perfect water walkway.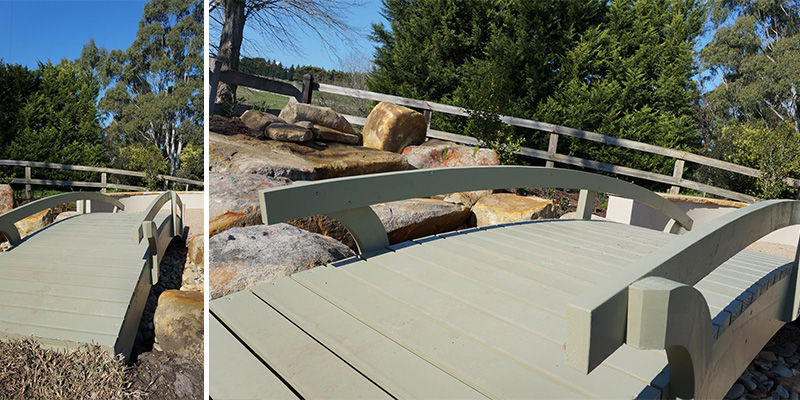 GARDEN PRODUCTS PHOTO GALLERY